Richard Clarkin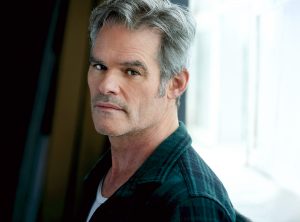 Weller Martin in The Gin Game
An Award-Winning performer and graduate of the National Theatre School of Canada, Richard Clarkin has created a versatile catalogue of characters on both stage and screen. Clarkin's acting career began in 1984 when he originated the role of "Jacob Mercer" in David French's iconic play Salt Water Moon for Tarragon Theatre in Toronto. Most recently, also for Tarragon, Clarkin played "Menelaus" in Rick Robert's adaptation of Orestes, a digital performance for the pandemic era, and a first of its kind for the theatre.
Clarkin has performed in large scale musicals such as Jukebox Hero and in the long running Disney/Mirvish hit production The Lion King, where he played the iconic role of "Scar". Clarkin has fostered long associations with iconic theatre groups such as VideoCab and the Company Theatre in Toronto, as well as performing in leading roles for decorated companies across the country, including The Stratford Festival, Soulpepper Theatre, Necessary Angel, Grand Theatre, Atlantic Theatre Festival, Royal Manitoba Theatre Centre, Prairie Theatre Exchange, The Globe Theatre, Citadel, National Arts Centre and The Belfry.
In 2018 Clarkin won the Canadian Screen Award for Best Supporting Actor in a Feature Film for his work in The Drawer Boy. Other notable screen roles include "Captain Gord Ogilvey" in the hit hockey comedy movies Goon and Goon II: Last of the Enforcers by director Michael Dowse, and recently the David Bowie biopic Stardust, and the soon to be released film Carmen opposite Natasha McElhone.
Clarkin's extensive television credits include the recurring role of "Chief Inspector Davis" on Murdoch Mysteries for CBC, Burden of Truth (CBC), Rogue (Audience), Killjoys (Syfy), Republic of Doyle (CBC), Flashpoint (CBS/CTV) and a series regular role on the popular teen sitcom Naturally, Sadie for Disney Channel and Family Channel.
Clarkin divides his time between Toronto and PEI. His island roots run deep, owning an old Farmhouse in Savage Harbour, and his parents coming from farming communities in Kelly's Cross and Watervale.