Classic Music Reignited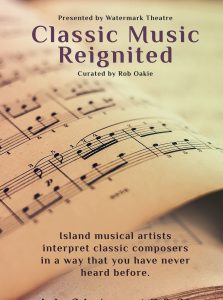 Curated by Rob Oakie, Classic Music Reignited features Island musical artists interpreting classic composers.
July 21st, 7:30PM – Queens of Country featuring the music of iconic female country artists Dolly Parton, Patsy Cline and Loretta Lynn. Their timeless classics will be interpreted by PEI songstress Teresa Doyle, Kim Albert & Faces and special guest Luis Anselmi on cuatro and keys.
August 4th, 7:30PM – British 70's Art Rock featuring the exciting and ground breaking music of The Moody Blues, Supertramp and Pink Floyd. This show presents two rising stars in PEI's music scene, Calm Baretta and Jenni & the Hummingbird with special guest Claire Gallant on keys.
August 11th, 1:00PM is a special children's matinee that will feature readings from famed author Robert Munsch by PEI comedian and actor Dennis Trainor. The show will also feature a special presentation of fiddle and dance duo to teach the children how to step dance!
August 18th, 7:30PM – Songs of Social Justice and Protest will be a selection of songs about yesterday and today's social issues, and a protest anthem or two, featuring a broad range of artists from Woody Guthrie to Crosby, Stills and Nash. The songs will be interpreted by Tara MacLean, Nick Gauthier & Tian Wigmore and Rob Oakie.

This project has been made possible in part by the Government of Canada

Also Supported by North Rustico Home Hardware