Billy Merasty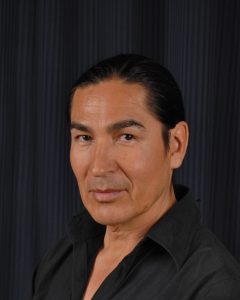 Arthur Copper in Cottagers and Indians
Billy is celebrating a 38 year career in the Performing Arts, having worked right across Canada, and he recently became a rarified member of D.O.T. – performers with union contracts in Dance, Opera, and Theatre.
Selected productions in Theatre: "Dry Lips Oughta Move To Kapuskasing", by Tomson Highway, "Where The Blood Mixes" by Kevin Loring, "Indian Medicine Show" by Daniel David Moses, "King Lear" by W. Shakespeare at N.A.C., and in my play, "Fireweed".
Selected Film and Television: "Justice Denied, the Donald Marshall Story", in the Lead Role (CBC/NFB), "Elijah", in the Lead Role of Elijah Harper (CTV), "Frontier", as actor and Cree Translator, (CTV/Netflix), and recently worked for "Diggs Town", as Chief Thomas, (CBC), and, in the film, "The 25th Year of Mitzi Bearclaw" by Shelley Niro, for which he received the Best Supporting Award at the Winnipeg Aboriginal Film Festival.
Billy is also very honoured to be performing in theatre in Eastern Canada, in the Atlantic Provinces, with this production.